Intel announces Core i9-13900K processor performance details
149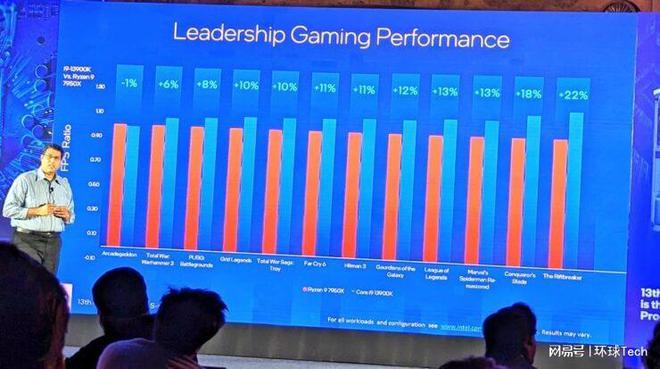 The outside world is waiting for the head-to-head contest between the 13th-generation Core and AMD Zen4 Ryzen 7000, and now Intel has officially revealed the secret. At the 13th-generation Core launch event held in India, Intel directly showed the game results of the Core i9-13900K compared to the AMD Ryzen 9 7950X. In 12 games including "PUBG Mobile", "Far Cry 6", "Hitman 3", "League of Legends" and "Spider-Man Remastered", the Intel platform almost maintained the lead.
The largest percentage is "The Riftbreaker", with 22%, and the average is about 11%.
In addition to games, there are also productivity applications involving content creation, including Auto CAD, Photoshop, AutoDesk, etc., of which 3 are flat, and 3 are ahead, with a maximum of 16%.
Unfortunately, Intel has not announced the detailed configuration of the test platform, including the resolution at which the game is played.
In terms of specifications, the Core i9-13900K is designed with 24 cores and 32 threads, the base frequency is 3.0GHz, the official acceleration frequency is 5.8GHz, the total cache is 68MB, the thermal design power consumption is 125W, and it can soar to 350W in beast mode.